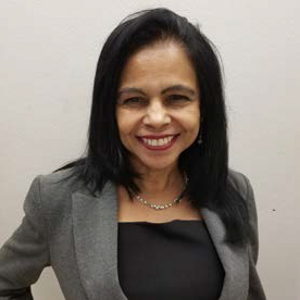 Professor of Biochemistry, School of Medicine
Graduate Student Coordinator, Department of Biochemistry
PR-INBRE Developmental Research Projects Program Coordinator
University of Puerto Rico Medical Sciences Campus, San Juan, PR.
E-mail: su.d@upr.edu
Complete list of publications: https://www.ncbi.nlm.nih.gov/pubmed/?term=dharmawardhane
Dr. Suranganie Dharmawardhane Flanagan's research focuses on experimental therapeutics for cancer metastasis, a deadly form of cancer when the cancer cells move from the primary site to establish tumors all over the body. Her laboratory uses cell and mouse models of metastatic cancer to characterize specific inhibitors to the small GTP binding proteins Rac and Cdc42 as targeted therapeutics for cancer metastasis and overcoming therapy resistance. Dr. Su received her Ph.D. in Cell Biology from the University of Massachusetts at Amherst in 1987. She was subsequently trained in cell migration, cancer cell invasion/metastasis, and signaling via GTP binding proteins at the Albert Einstein College of Medicine, NY; University of California at San Diego; and the Scripps Research Institute, La Jolla, CA. Her independent research program in breast cancer metastasis was initiated in 2000 at the University of Texas at Austin. Dr. Su is currently a Full Professor in the Department of Biochemistry at the University of Puerto Rico (UPR), Medical Sciences Campus, San Juan, PR, where she is also the graduate student coordinator. In addition, she directs the Developmental Research Projects Program of the Puerto Rico IDeA Networks of Biomedical Research Excellence (INBRE), a NIH/NIGMS P20 award to the UPR to forward the biomedical sciences research enterprise in Puerto Rico. Since 2018, she has served as the Chief Scientific Officer of MBQ Pharma, Inc., a Biotech Company focusing on the development of anti-metastatic breast cancer therapeutics targeting the metastasis drivers Rac and Cdc42.